Celebrating 150 years
Respecting the past and inspiring the future
An anniversary presents an opportunity for reflection as well as celebration. A moment to look back, to remind ourselves of the founding values of the College, and the achievements of our students, Fellows and staff, particularly in the last 50 years – the wonderful and colourful characters that make the history of the community so rich and varied.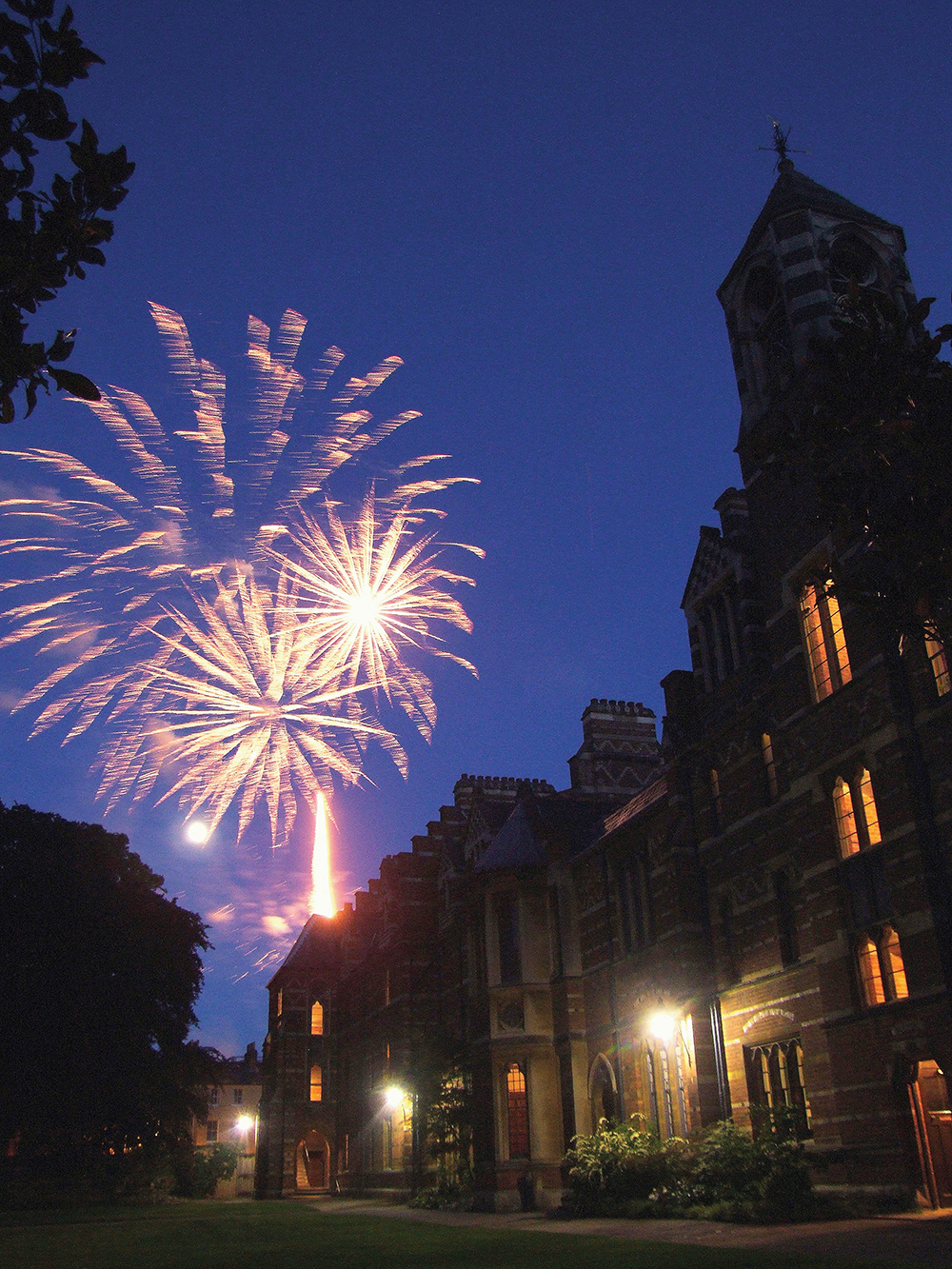 And of course it is an opportunity to look to the future, to evaluate the contribution we are making to the University, the city and to education and research, to reboot and prepare for the challenges ahead.
Many aspects of Keble life will feature in a programme of events and projects over 18 months beginning in September 2019. You can find out more about them on this website or in our 150th Events Brochure (pdf). We hope you will join us and get involved.
***Update March 2020***
Very sadly, we have had to cancel many of our upcoming Anniversary events in light of the COVID-19 pandemic.  It is a great disappointment to have to change so many plans in this special year for the College, but we are keeping things in perspective and will pick up again when it is safe to socialise and welcome you back to Oxford.
You will find up-to-date cancellations and postponements on out Events page.
It's not all bad news, however. We have already held some excellent events, and look forward to others, including exciting digital projects not impacted by the pandemic.
We kicked off the Anniversary with the launch of an exhibition, Portrait of Keble – An Installation (pdf), featuring photographic portraits of 28 individuals. These include alumni, current students, staff, and fellows, who were chosen for their inspirational achievements, be they personal, professional, or both. The 28 were selected from over a hundred nominations. The launch event took place on Friday 20 September as we rolled into the Alumni Reunion Weekend (21-22 September 2019) celebrating 40 Years of Coeducation at Keble.
Dr Ian Archer and Professor Angus Hawkins hosted a Victorian Symposium on Wednesday 25 September 2019 open to all students, alumni and staff. No academic specialism was required, just a healthy interest in all things Victorian/Keble. The symposium looked at the forces and personalities behind the foundation of the College and covered religious politics, poetry, fundraising Victorian-style, women's education and architecture. Videos of all of the lectures are available on our Keble Heritage microsite.
During the 150th Anniversary our regular London Lecture programme takes the form of 'The Warden in Conversation with'. We have lined-up some interesting interlocutors for Sir Jonathan which bagan in November 2019 with Ed Balls (alumnus and Honorary Fellow). The series will continue with the Vice-Chancellor of Oxford, Professor Louise Richardson and Tony Hall later in the year / next year.
2020 also sees 100 years of the Keble Association. We joined together with a special London Dinner at the Lansdowne Club on Saturday 1 February 2020. The dinner was well-attended and greatly enjoyed by alumni and friends from across all generations. A real celebration of the Keble community.
Music forms an important part of the life of the College. The Keble Early Music Festival in February 2020 was bigger and better than ever. Director of Music, Matthew Martin has been commissioned to compose a Missa Brevis in celebration of the 150th Anniversary.
Saturday 6 June 2020 is the actual birthday: 150 years since the founding of the College. Although we will not be able to celebrate as we intended with a special garden party for current students, staff and Fellows, we will still be holding our online Giving Day encouraging alumni around the world to get involved, sending birthday wishes to Keble to mark the special date.
In Autumn 2020, we will be launching the 150 Bricks Project. This online multi-media exhibition will tell the history of the College using video, audio, images and text. With many contributions from alumni we have gathered and selected fascinating stories, anecdotes, artefacts and memories which capture the spirit of Keble.
We hope to be able to welcome Alumni back to College again in September for the 2020 Reunion, which we are billing as the Alumni Big Birthday Weekend. Further details will be available in due course, but we hope that this will be open to alumni of all ages and will give all those who have sponsored their old College room the opportunity to see the plaque in place for the first time.
The academic year 2020-21 will also see us welcome our new Visiting Fellows and many of our new graduate scholars funded by donations to the Anniversary Campaign.
Keble Choir and virtuoso violinist Anne-Sophie Mutter (Honorary Fellow) will perform in a special Anniversary Concert at the Sheldonian Theatre in Oxford on Friday 11 December 2020. Open to all to purchase tickets. Anne-Sophie has also agreed to give a private concert for invited guests at the Founders and Benefactors Feast on Saturday 12 December.